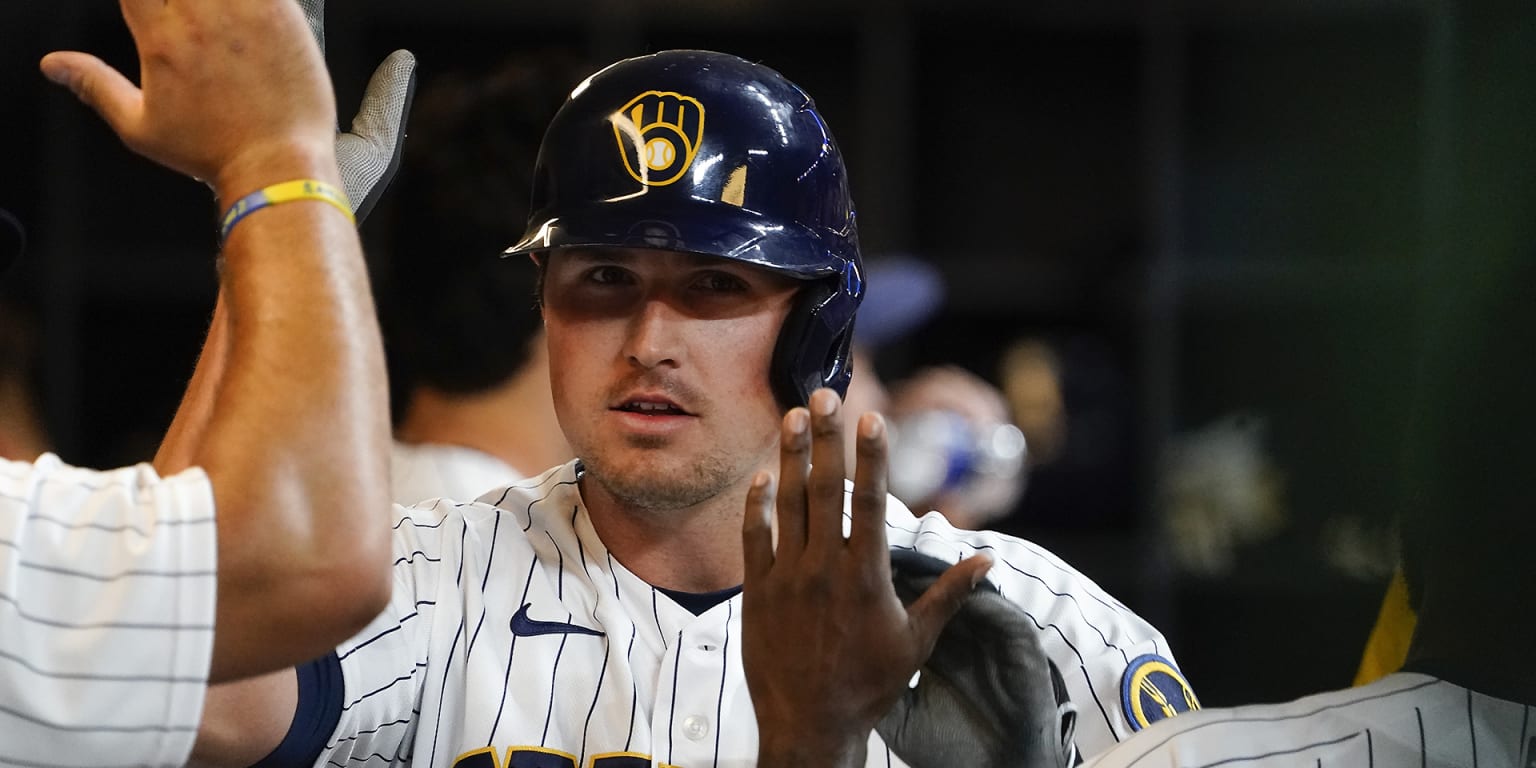 MILWAUKEE — Six home runs and 10 extra-base hits is an impressive feat on any given night. At home in front of your fans and against a rival, it's even better.
The Brewers' bats were brewing Friday night, as Milwaukee crushed the Cubs 11-1 at American Family Field for their fourth consecutive victory. Hunter Renfroe was the star of the show, going deep twice.
It was the eighth time the Brewers have hit at least six home runs in a game. The last time they did it was Aug. 17, 2019, against the Nationals, when they hit seven. They've also now done it twice against the Cubs, previously hitting six at Wrigley Field in 2006 — interestingly enough, also on April 29.
"We swung the bats well," said manager Craig Counsell. "A bunch of homers, obviously it's good to see the ball go over the fence, for sure."
The offensive barrage came after a similarly successful series in Pittsburgh — at least to a point. Milwaukee scored 18 runs against the Pirates, the most the Brewers have scored in a three-game series this season. But most of that success came on Tuesday, when Milwaukee erupted for 12 runs on 14 hits, both season highs. In the other two games, they combined for just six runs.
The Brewers have scored three runs or fewer in nine of 21 games to begin the year, but the club is embracing the fact that it can win in different ways.
"We've had nights on this past road trip when we've had to grind, play small ball and get creative," said Christian Yelich, who clubbed a two-run shot in the fifth, his second homer of the season. "It's the sign of a good team when you can kind of win games a bunch of different ways. Finding different ways to win ballgames is pretty big."
Before Friday, the Brewers ranked toward the bottom of the league in every offensive category: 20th in runs per game (3.70), 20th in home runs (15), 25th in batting average (.209) and sixth in strikeouts (175).
Friday was a different story. The offensive breakout, the second of its kind in four days, could be a sign of things to come for the offense.
"We drove the ball," said Counsell. "We put good swings on the baseball tonight. The extra-base hit is a pretty good format for a good offense."
Milwaukee was able to capitalize on Cubs starter Kyle Hendricks' inconsistency early in the game, scoring six runs before Hendricks exited after 4 1/3 innings.
"He felt a little bit off tonight, and we took advantage of it," said Counsell. "He just had some misses, and we took advantage of it. The ball was up, and we put a lot of good swings [on it]. When a guy's not locked in, you take advantage of it, and we did that tonight."
Hendricks' struggles turned the game into a free-for-all for the Brewers, as every player notched at least one hit — including Rowdy Tellez, who got the hitting started in the second inning. Tellez had gone just 2-for-20 over his previous seven games, but he crushed a double off the wall in his first at-bat. The blast traveled a Statcast-projected 399 feet, and missed being a home run by inches. If Tellez had hit the 102.5 mph rocket to nearly any other part of American Family Field, it would have cleared the fence. Only Yelich's home run in the fifth inning (447 feet) went further.
Tellez's double started a relentless cycle of extra-base hits. Up next, Jace Peterson mashed his first home run of the season. Andrew McCutchen homered for the second consecutive game in the third. After Yelich went deep, Renfroe followed suit in the fifth and seventh before Willy Adames capped the deluge with a two-run blast in the eighth, his fifth of the season.
"We knew that this was going to happen. It was just kind of a matter of time," said Renfroe. "We were hitting the ball really hard in Pittsburgh. Sure enough, it kind of showed today, and hopefully this is a picture of what's to come more often than not. We felt really good today."
It was an all-out hitting spree for the Brewers, as they hit the ball hard all night. The Crew hit 13 balls over 95 mph — 9 of which went for hits, including 8 for extra bases.
"It's nice," said Yelich. "We've had some tough nights. The thing about baseball is you have to keep grinding, keep putting in the work and keep trying to get better. We have a lot of guys who've done that, and it kind of showed tonight."