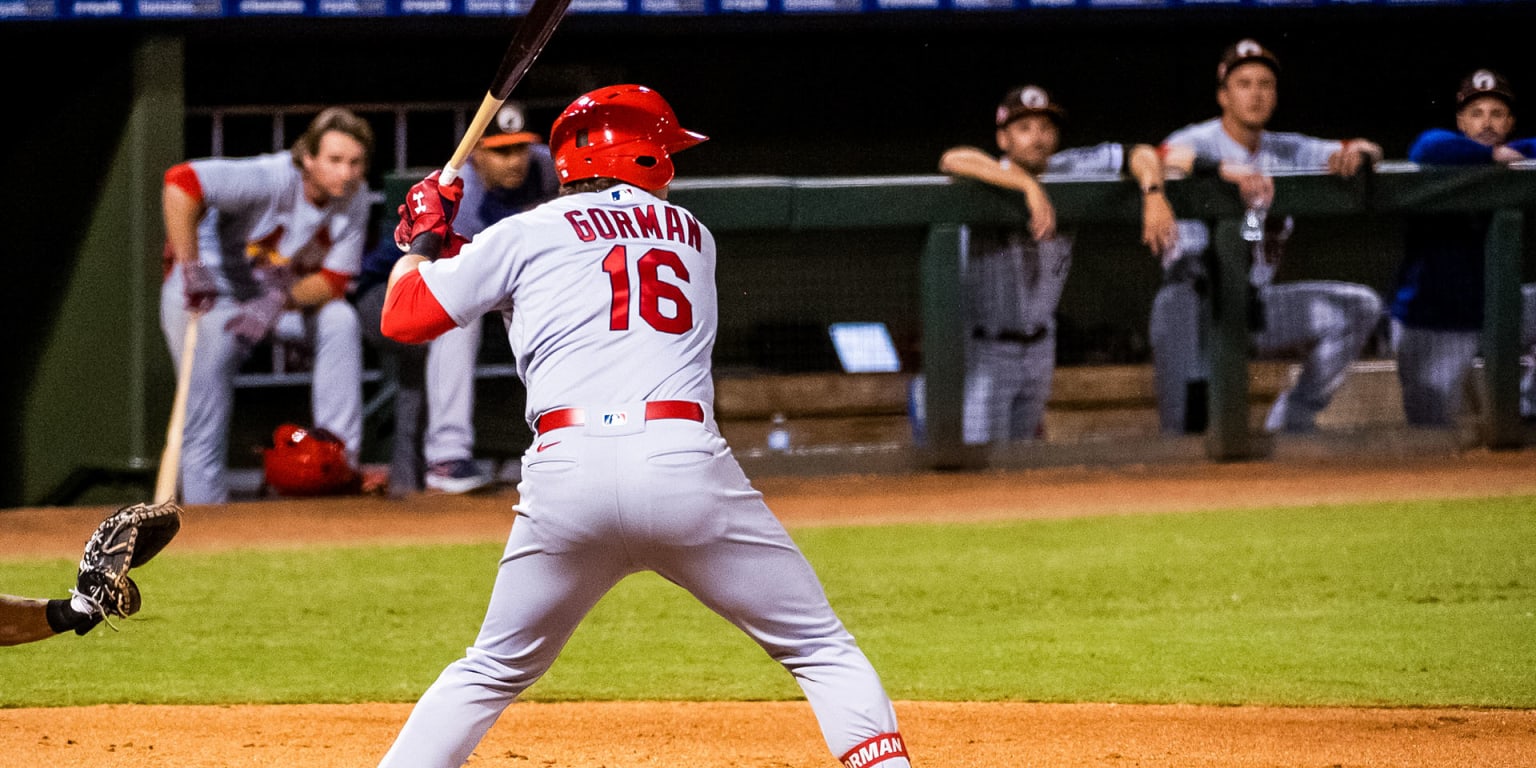 When Cardinals manager Oliver Marmol informed second baseman Nolan Gorman that he would be starting the season at Triple-A Memphis instead of St. Louis, the rookie manager fully thought of it as a "bye for now" type of scenario, and that one of the organization's top prospects would soon be at the Major League level.
Now, after one of the most jaw-dropping stretches of Gorman's young career, the blossoming infielder could be in St. Louis sooner rather than later.
Gorman, rated as the No. 2 prospect in the Cardinals' system, per MLB Pipeline, recently went on a tear where he hit home runs in five consecutive games for the Memphis Redbirds. Incredibly, the left-handed hitter's hot streak also included seven home runs in a seven-game stretch.
"There were times when I felt really good at the plate and I've been getting good results," said Gorman, who didn't have a hit in his first nine at-bats of the season, but then ripped off a stretch in which he hit .417 with seven home runs, eight more hits and 12 runs scored from April 8-20. "As long as I have good at-bats, the results will take care of themselves. Home runs are awesome, but it's the result of preparation and everything I've put into this."
Gorman, who worked for six weeks with Cardinals infield instructor José Oquendo to switch from third base to second, expected to be doing this sort of power hitting at the Major League level. However, the 21-year-old struggled at the plate in the condensed Spring Training. It wasn't unlike last season, when he had rough early stints at Double-A Springfield and Triple-A Memphis last season before heating up as the season progressed. To his credit, Gorman said he came out of 2022 Spring Training a better hitter even though the initial results didn't show up. That progress is paying off now with Memphis.
"I felt good at second base and as far as my offense went, it wasn't anything special, but it was just the result of not being on time [with my swing]," he said. "I just had a conversation with somebody here about looking at my timing instead of looking at my swing. Timing is so big for me, and once I realized it, I got back on the train and I'm doing a lot better."
Gorman's hot streak at the Triple-A level caught the attention of Marmol. The Cards manager said he tried to express his belief in Gorman even as he had to tell him he didn't make the Opening Day roster.
"I think it's important to have those conversations with guys like [Gorman], who have an expectation of making the club, about what the expectations are, but also what they're not," Marmol said. "I just wanted him to know he's a good player who is going to contribute here for a long time."
Gorman says his thoughts remain on playing well at Memphis and not on what he has to do to earn a promotion to St. Louis. One potential avenue to the big leagues could be as a DH, where the Cardinals would covet his pop from the left side. The results will take care of themselves, Gorman said, as long he continues to play well at the Triple-A level.
"My biggest thing is trusting the work I put in in the offseason," Gorman said. "Not going up to the plate and worrying about my swing and knowing it will be there in the game. The thing I learned from Spring Training is that if I feel off, I look at [timing]. With me, it's just about trusting my ability and the work I put in."
About Post Author