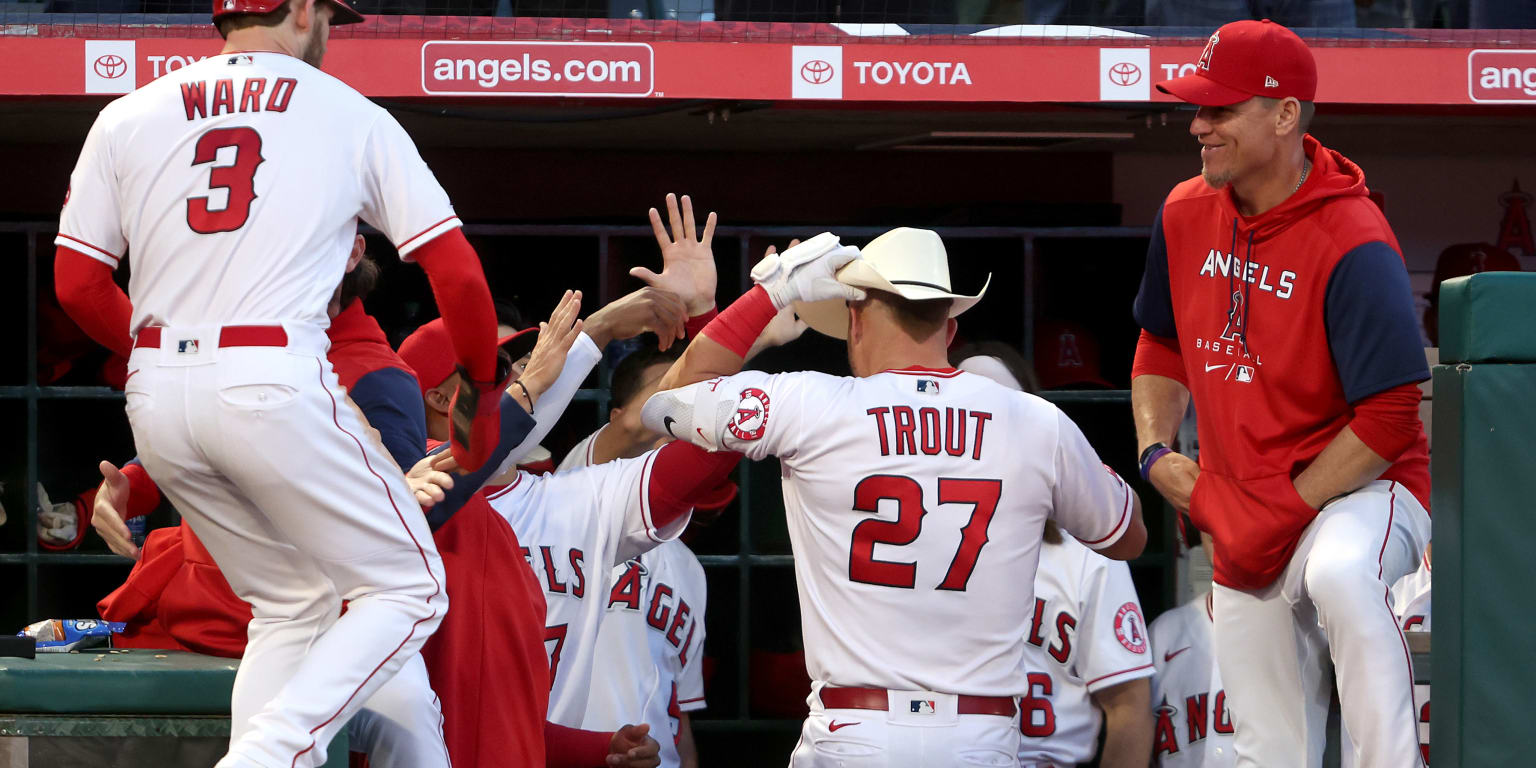 ANAHEIM — If there were any doubts about Mike Trout remaining one of baseball's elite players after being limited to just 36 games last year because of a strained right calf, he's put that to rest early this season.
Trout continued his scorching start to the year, going 2-for-3 with a homer, a double, a walk and three RBIs to back lefty Patrick Sandoval's strong effort on the mound in a 4-1 win over the Guardians on Tuesday night at Angel Stadium. Trout, a three-time American League MVP and nine-time All-Star, is batting .347/.458/.776 in 14 games this year. His 1.234 OPS leads the Majors and is nearly 100 points higher than Anthony Rizzo's 1.144 OPS, which ranks second.
"I'm very confident in what I do," Trout said. "And I have fun out there doing it. Just trying to help the team win. I've been playing baseball my whole life."
Trout's fast start has helped him raise his career OPS to 1.004, which is tops by a wide margin among active players with at least 3,000 plate appearances, as Cincinnati's Joey Votto is second with a .932 career OPS. When lowered to 2,000 career plate appearances, the Nationals' Juan Soto ranks second to Trout with a .977 OPS.
He was asked after the game if he feels like he's playing like "peak Mike Trout" early in the season, but shrugged it off with a smile.
"Peak Mike Trout?" Trout said. "I'll leave that up to you guys to decide. But I feel good out there, and I'm obviously healthy."
Trout also made history yet again, as he tied Tim Salmon's franchise record for the most homers at Angel Stadium with his third-inning blast. Salmon hit 160 homers in 847 home games with the Angels, while Trout has matched that total in 655 home games.
He struck out looking in the first inning against Guardians starter Triston McKenzie, but bounced back with a two-run homer off the right-hander in the third, good for Trout's team-leading fifth homer of the season. Through Tuesday, the Angels rank second in the Majors in homers with 24, and their 86 runs lead the American League.
"The pitch that I threw that he hit out, and the double, I think they were decent pitches," McKenzie said. "I think he's just a guy that you have to be wary [of] all the time."
Trout nearly went deep again in the fifth, ripping an 0-2 fastball from McKenzie down the left-field line and off the wall, scoring Shohei Ohtani from first after he singled with two outs.
"It was big moments," Angels manager Joe Maddon said of the win. "We ran Shohei at the right time and he came around to score. Michael looks really good at the plate. And that's an understatement."
Trout walked in his final plate appearance in the eighth against hard-throwing lefty Anthony Gose despite being down 0-2 in the count. He attempted to score from first on a double to left-center from Jared Walsh, but was thrown out at the plate. Trout, though, still showed off his wheels, as he reached a top sprint speed of 28.9 feet per second, which is just under the 30 feet per second that's considered elite by Statcast.
Trout's big night at the plate was enough for Sandoval, who struck out nine over seven scoreless innings in one of the best starts of his young career. Sandoval entered with a 0.00 ERA in eight innings but had yet to go deeper than four frames in either of his outings.
He was much more efficient this time out, becoming the first Angels starter to reach the seven-inning mark this season and has opened the year with 15 innings without allowing an earned run.
Sandoval was pleased with the way he threw the ball but also continues to be amazed by Trout, who has been his teammate since Sandoval's debut in '19.
"It's insane," Sandoval said. "He just barrels everything up. It's fun to have him playing behind me. He's the G.O.A.T."