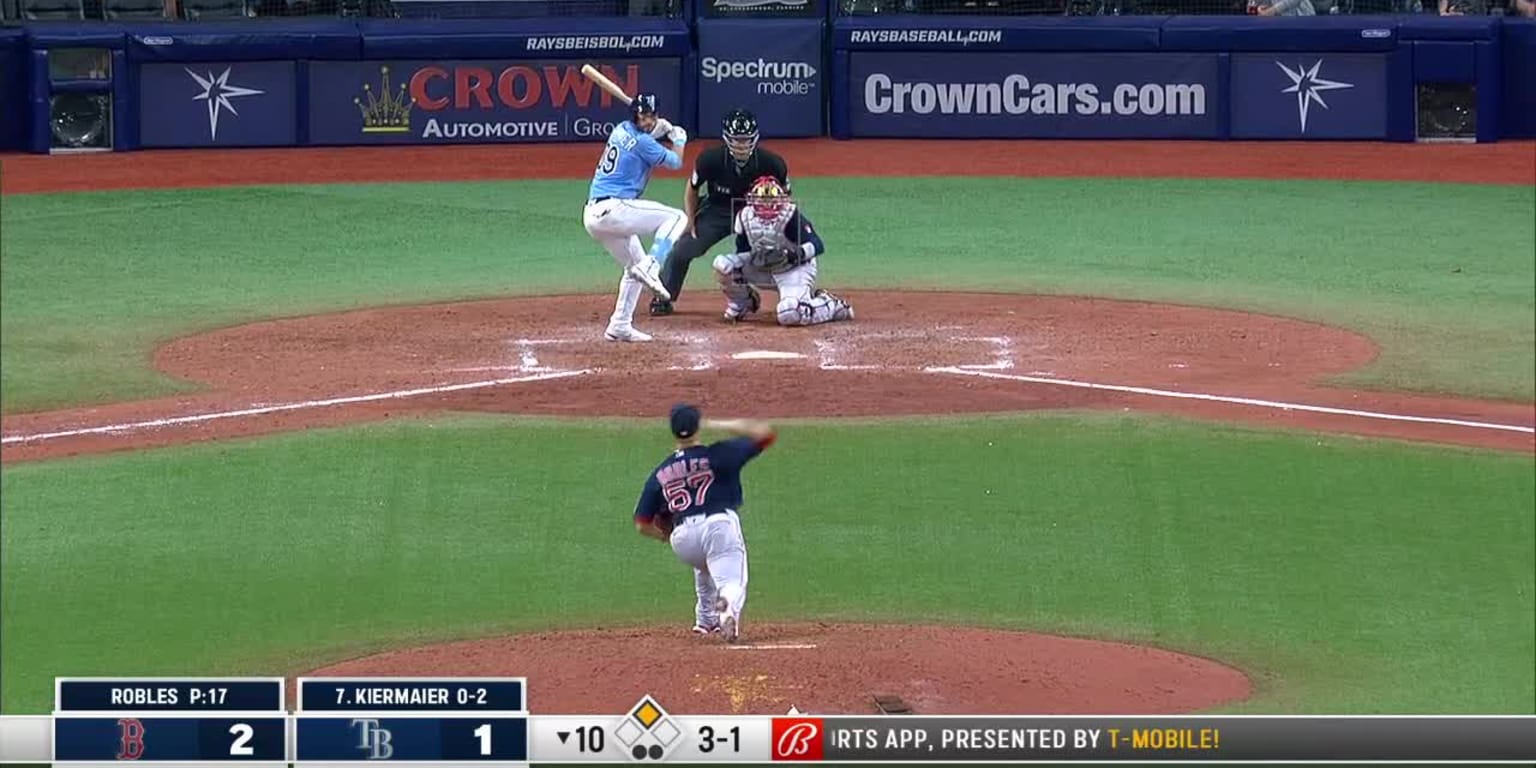 ST. PETERSBURG — Rays pitchers J.P. Feyereisen, Javy Guerra, Jeffrey Springs, Jason Adam, Ryan Thompson and Andrew Kittredge combined to pitch nine hitless innings against the Red Sox on Saturday night. But when Kittredge retired Jackie Bradley Jr. for the third out of the ninth inning, there were no joyful hugs on the mound at Tropicana Field.
The celebration, it turned out, would have to wait.
For as untouchable as Tampa Bay's bullpen was throughout the night, the Rays lineup struggled even more to get to Boston's pitching staff. The Rays came up empty in the bottom of the ninth and sent a scoreless tie into the 10th inning, where the Red Sox capitalized on their extra opportunity. But the Rays had one more trick up their sleeve.
After Tampa Bay gave up two runs in the top of the 10th, the Rays came back and won 3-2 on Kevin Kiermaier's first career two-run walk-off home run in the bottom of the inning.
With right-hander Matt Wisler entering the game to pitch and Bradley on second as the automatic runner in the 10th, Bobby Dalbec sliced a fly ball toward the right-field corner. Brett Phillips made a sliding attempt, but the ball bounced on the warning track for the first Red Sox hit of the night. Bradley scored easily, Dalbec sped around the bases for a triple and Boston was seemingly on its way to a wild win.
But that was when the Rays lineup came to life in unconventional fashion. They finally got on the board as automatic runner Randy Arozarena advanced to third base on a balk by Hansel Robles and scored on an errant throw by Red Sox second baseman Trevor Story. Up came Kiermaier with two outs — and a .410 OPS on the year — only to line a 3-1 fastball into the right-field seats.