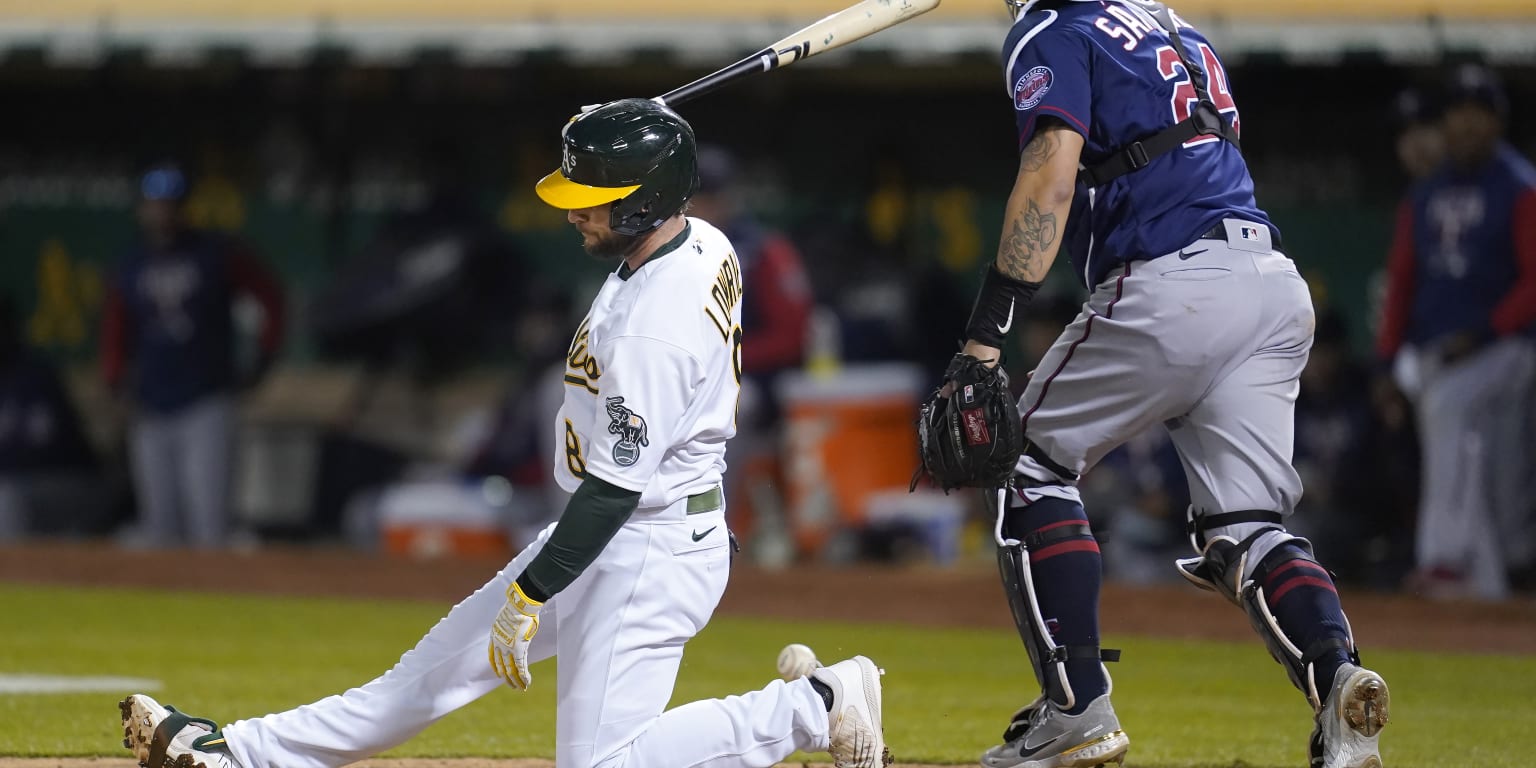 OAKLAND — Even though Ramón Laureano went nearly nine months without appearing in a Major League game before returning from suspension earlier this month, opposing teams are still very much aware of the scouting report: Do not run on his arm.
Twins star Byron Buxton knows the deal. In the fifth inning of the A's 3-1 loss to Minnesota on Monday, the speedster knew better than to test the cannon of an arm Laureano possesses, staying put at second base on Kyle Garlick's deep flyout hit to Laureano in right field. As Laureano fired a seed to Elvis Andrus halfway to third base, Buxton slowly made his way back to the bag, exchanging a quick smile with A's second baseman Tony Kemp and gesturing toward Laureano, as if to say, "it's OK, I'm not going."
Laureano, Cristian Pache and Luis Barrera, who made up Oakland's starting outfield on Monday, might just be one of the most dynamic defensive trios in the game when you combine each player's strong arm and supreme speed and range.
"That outfield, if you assess the true footspeed, is probably one of the better outfields in the big leagues," said A's manager Mark Kotsay. "Those three guys can cover ground. They have great arms. We saw it with Pache, even though he made an errant throw [in the fifth inning], he covered ground quick and made a difficult decision for the third base coach."
For a club that entered the day tied for most errors (27) in the Major Leagues, Monday was a positive in that the A's not only played a clean game but also made some spectacular plays. Andrus' diving snag in the seventh stood out, securing a scorching grounder hit 102.7 mph off the bat of Gio Urshela and getting to his feet quick enough for an off-balance throw to Seth Brown at first to end the inning.
Oakland's slumping offense, however, is another recurring theme that doesn't quite have a fix yet. Following Sunday's loss to the Angels, Kemp equated the struggles to put up runs on days in which the pitching shines to a "broken record" for its frequency. That storyline remained true on Monday, as Zach Logue and the A's bullpen held the Twins down to keep the A's in the game, only for their own bats to muster just four hits.
The overall numbers are not pretty. After Monday's loss, the A's hold a team batting average of .199. Through 38 games, it marks the latest in a season they've hit under .200 collectively since 1966 (24 games). Their on-base percentage is .268, their slugging percentage is .306 and their OPS is .574. Each of those numbers ranks last in the Major Leagues in their respective categories.
Even when the A's do seem to be mounting a threat on offense, they're just not cashing in, now 0-for-15 with runners in scoring position over the past two games after going 0-for-4 in such situations on Monday.
"Offensively, we haven't gotten the job done," Kotsay said. "We're doing things that I see improvement in, but we're obviously not scoring runs. We're reducing our strikeouts, we're just not getting the hit with runners in scoring position and being able to capitalize."
Andrus was one of the few offensive bright spots on Monday with two hits, including a double in the sixth. However, he's also among the plethora of A's bats who are underperforming, with his .231 average, .315 slugging percentage and .623 OPS all well below his career averages.
Now in his 14th big league season, Andrus certainly knows about offenses going through these types of droughts. He's also been around long enough to know that a turnaround is possible, even if things seem as bleak as they do right now.
"I feel like as an offense, we started off pretty good against the odds we had starting the season," Andrus said. "This is going to happen throughout the season, ups and downs. Unfortunately, the past few weeks, we haven't been able to put good innings together."
So what are the A's to do mired in such a bad funk?
"When you're in that situation, it sounds crazy, but that's when you have to relax even more," Andrus said. "Going through slumps like this, as a team, you have to have short-term memory, turn the page and believe everything is going to get back on track. That's one thing I'll say to each of the guys. We've still got five months ahead, and sometimes it takes time to find a rhythm. The games have been close because our pitching has been doing a terrific job."
If you're looking for signs that a breakthrough is near, both Kotsay and Andrus pointed to the many hard-hit balls on Monday that resulted in outs. For example, Pache struck balls of 98.2 mph and 91.3 mph with expected batting averages of .390 and .710, respectively. If that keeps happening, the A's expect those balls to eventually find holes.
"We've been hitting the ball good, especially the last few games, right at people," Andrus said. "Sometimes that's what it takes. Get a few of those line drives to fall and you get a rally. You have to continue to make that contact and believe it's eventually going to fall."