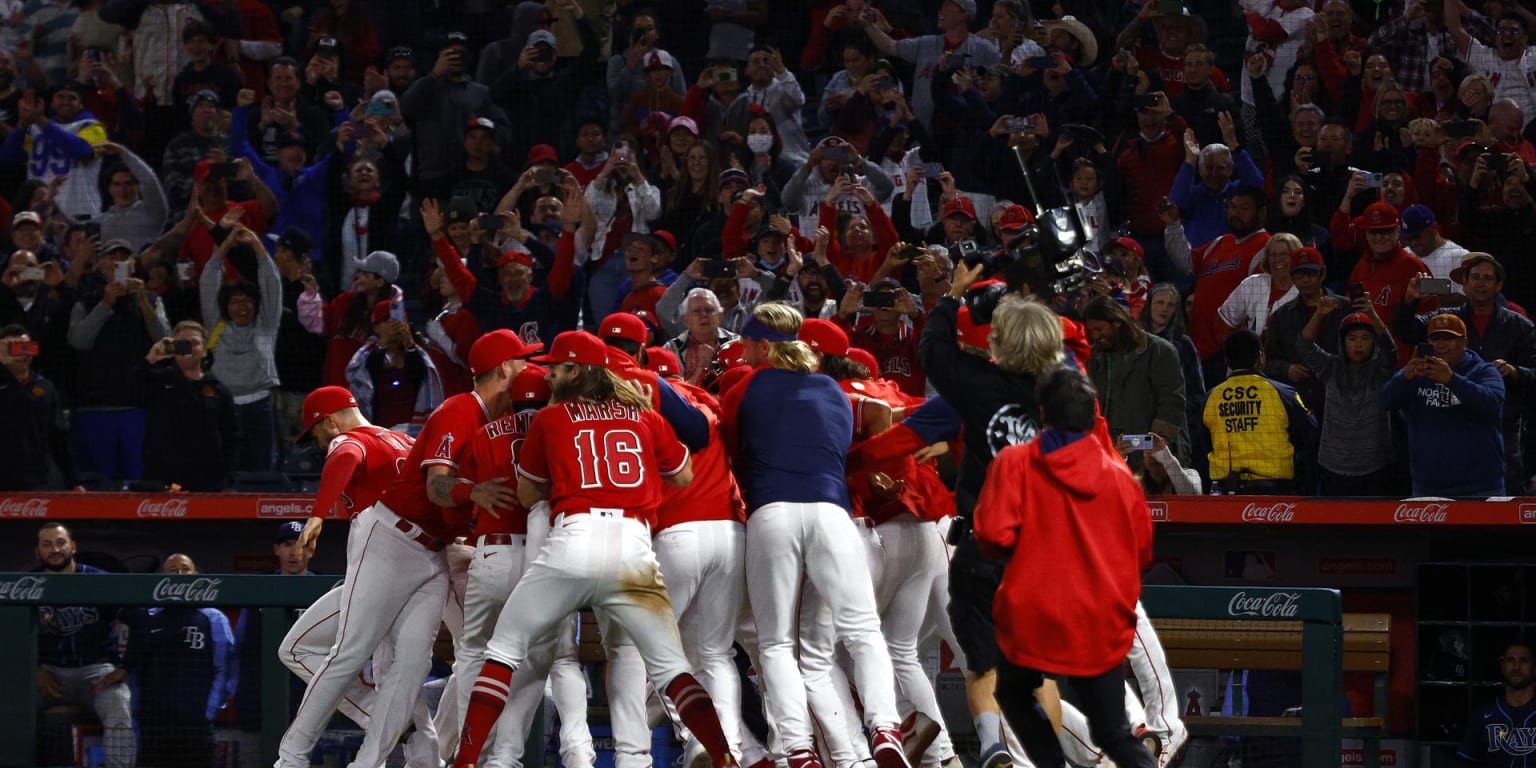 This story was excerpted from Rhett Bollinger's Angels Beat newsletter. To read the full newsletter, click here. And subscribe to get it regularly in your inbox.
ANAHEIM — You probably (hopefully) know this by now, but Reid Detmers made history on Tuesday night: The left-hander twirled the 12th no-hitter in franchise history against the Rays. In just his 11th career start! Here's a breakdown from the epic night at Angel Stadium.
– The one time a fielder was happy to make an error
It's not every day that the home crowd cheers the official scorer for charging an error on one of the home players. But it's also not every day that a rookie pitcher has a no-hit bid going in the seventh inning.
With Detmers seven outs away from history, Rays right fielder Brett Phillips hit a grounder to first baseman Jared Walsh, who couldn't handle the play, allowing Phillips to reach first and give the Rays just their second baserunner of the night after Taylor Walls drew a leadoff walk in the sixth. But after a bit of a wait, it was announced that Walsh was charged with an error, leading the crowd of 39,213 at Angel Stadium to cheer, with Walsh clapping along to the decision.
"There was no question, it was an error," Walsh said. "I heard the fans, and I was like, 'Yeah, I agree. Let's go.'"
– Rendon hits home run … left-handed?
Phillips had the tough task of facing the heart of the Angels' order and he paid for it, serving up a two-run blast to superstar Mike Trout for his second homer of the game before giving up a double off the wall to two-way star Shohei Ohtani. But it was Anthony Rendon who turned heads, as he came to the plate batting left-handed for the first time in his career. Rendon amazingly hit a two-run blast to right field that capped the scoring in an unforgettable 12-0 win.
"He does that a lot with the guys downstairs in the batting cage," manager Joe Maddon said. "I'm standing there and Gags [field coordinator Mike Gallego] is like, 'He has a different helmet on.' And that ball wasn't just a homer. It was well-struck."
– Oh, and how about Detmers?
The day started like any other for Detmers.
He had his usual routine of relaxing on the couch alone in the clubhouse before the game to lock himself in mentally, warmed up in the bullpen without feeling especially sharp and was set to pitch to catcher Chad Wallach, who was just called up the day before and had only caught him during a bullpen session once in Spring Training.
But it ended with history, as Detmers threw one of the more unlikely no-hitters in recent memory.
"It's something I've dreamed of ever since I was a little kid," Detmers said. "I didn't think it would ever happen. I don't even know. I probably won't even remember this [interview] tomorrow morning."