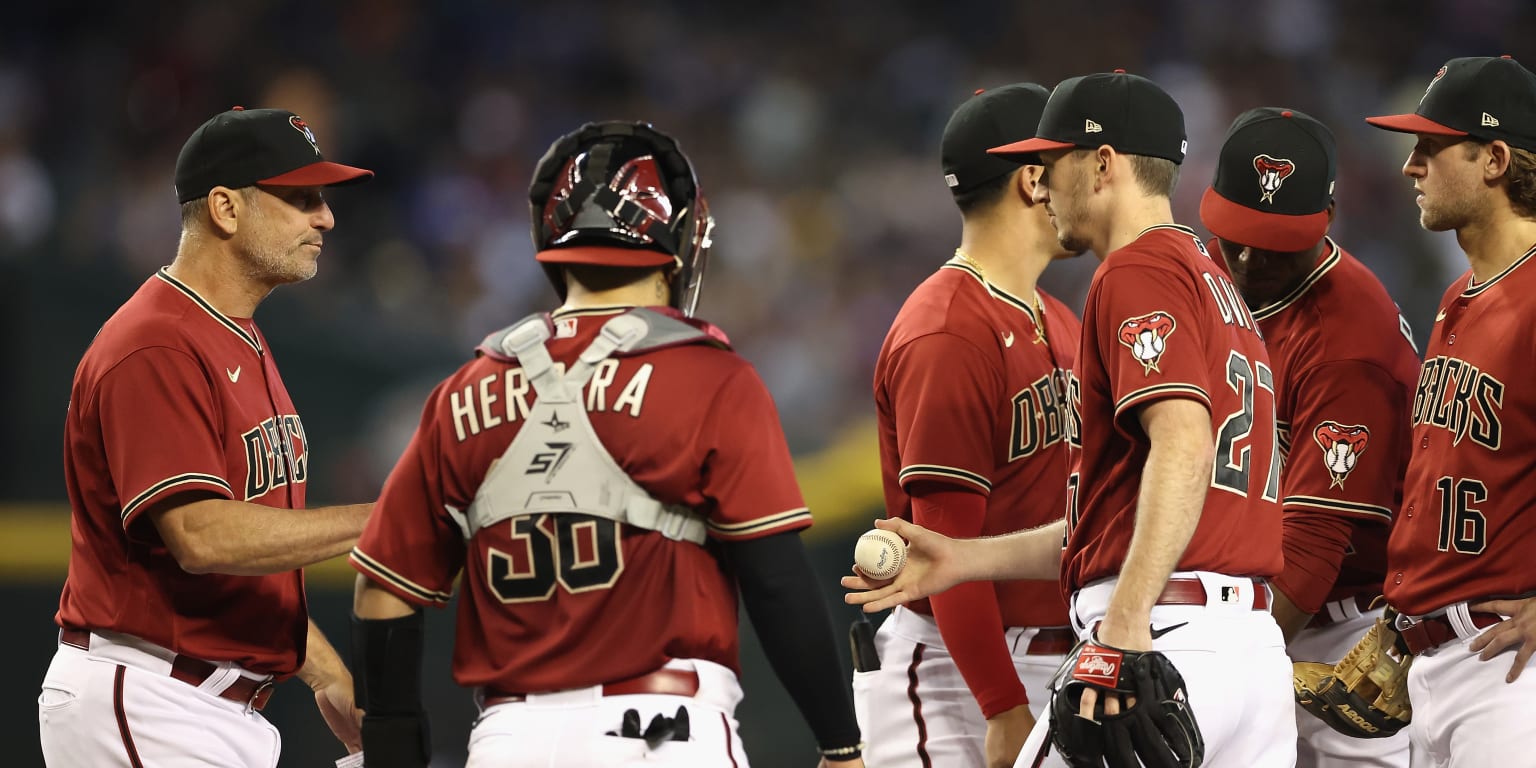 PHOENIX — D-backs manager Torey Lovullo didn't think he would experience another series this season quite like the one his team played at Dodger Stadium from May 16-18.
That was a low point for Arizona during the early portion of the 2022 campaign. Los Angeles swept a four-game set, continuing its recent dominance against its National League West rival.
Less than two weeks later, though, the D-backs again endured the disappointing feeling of getting swept by the Dodgers. Los Angeles capped off another four-game series by handing Arizona a 3-1 loss at Chase Field on Sunday afternoon, and Lovullo was left unsatisfied with his club's performance over the weekend.
"They did it to us last time we played them," Lovullo said. "I wasn't anticipating having to go through that again for the rest of this year."
It's been a recent trend in matchups between the D-backs and Dodgers. Los Angeles has won nine consecutive games in the series, eight of which have come over the past 14 days.
Still, it's clear why Lovullo thought his team would fare better against the Dodgers this time. In the previous series in L.A., Arizona lost three of the four games by two or fewer runs. Plus, the D-backs seem to be an improved team from 2021, when they had 110 losses.
But in matchups against the high-powered Dodgers, things still aren't going the Snakes' way. Through 49 games this year, Arizona is 2-8 against Los Angeles and 21-18 against everybody else. And since the beginning of 2020, the Dodgers are 33-7 against the D-backs, having outscored them by 122 runs (239-117) over that stretch.
"You can feel that momentum and that tide when you play the Dodgers, it's one of the characteristics that they walk around with," Lovullo said. "They want to put up a big inning. And when they get that opportunity, we've got to find a way to stop that momentum right now and eliminate a big number."
Arizona right-hander Zach Davies mostly did that on Sunday. He allowed a Will Smith solo homer in the second and two more runs in the third, but he settled in and retired nine consecutive batters at one point during the middle frames of his 5 1/3-inning outing.
In his previous start against the Royals on Monday, Davies was hit on his lower right leg by a 112 mph comebacker, causing him to exit with a contusion. However, that didn't stop him from taking the mound six days later and putting together a solid outing.
"I got a little bit tired toward the end, but I checked off all the boxes before today," Davies said. "I was happy with where [the leg] was at and knew I would be able to manage it. I threw my bullpen [session] with no worries, so I wasn't worried about anything going into the game."
Arizona's bats didn't give Davies any support. The D-backs were quieted by left-hander Tyler Anderson (six scoreless innings) and the Dodgers' bullpen, as they didn't get on the board until David Peralta's pinch-hit two-out RBI triple off closer Craig Kimbrel in the ninth.
Cooper Hummel struck out looking at a knuckle-curve from Kimbrel to end the game, and Arizona finished 0-for-5 with runners in scoring position, having left nine men on base.
Lovullo felt the D-backs' batters were chasing too many pitches out of the zone throughout the day. They scattered their eight hits, leaving third baseman Josh Rojas to lament the early scoring chances that could have made this a different game.
"They've got some good starters, they've got a really good bullpen. You just have to really be locked in and capitalize when we have those opportunities to score some runs," Rojas said. "Those little situations that you take for granted early in the game could really help us at the end of games."
Arizona will have plenty of time to prepare for its next meeting with Los Angeles. The two teams don't meet again until a three-game series in Phoenix from Sept. 12-14.
The schedule doesn't get easier for the D-backs in the meantime, though. Not with the defending World Series-champion Braves coming to town for a three-game set that starts Monday.
"We've got to digest this one as quickly as possible," Lovullo said. "We've got the world champs walking into our building tomorrow. We've budgeted for these tough times, we talk about these tough times, and it's when you have to show resilience."
About Post Author