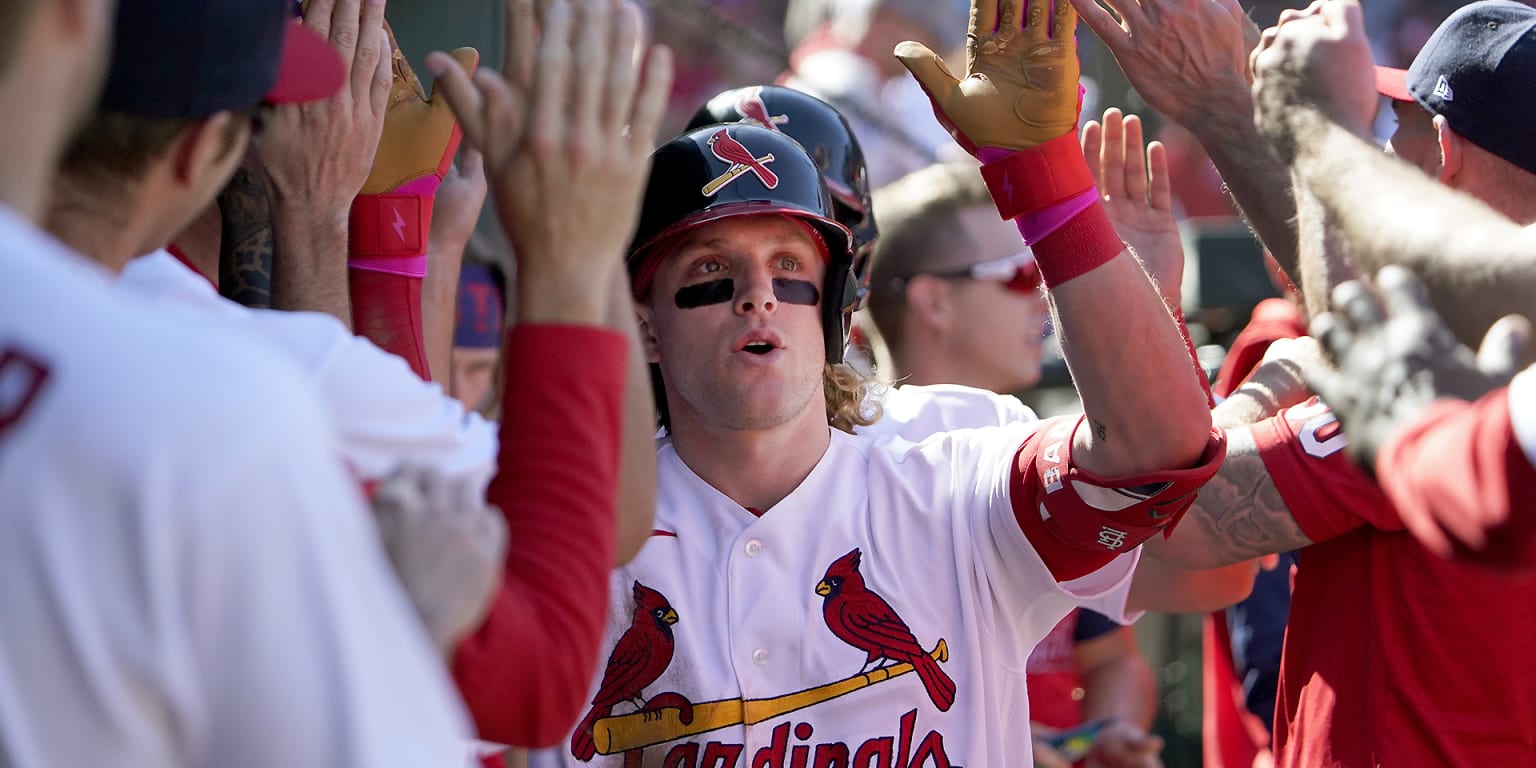 ST. LOUIS — Veteran Cardinals players occasionally give catcher Andrew Knizner grief for some of the "corny" jokes he tells or his sometimes-chatty nature in the dugout during lulls in games. However, the 27-year-old catcher from North Carolina proved himself to be prophetic with one of the lines he kept uttering Sunday.
"Flares start fires," Knizner optimistically said to anyone who would listen inside a Cardinals dugout that had grown strangely tense with the team having gone 10-plus games and some 364 at-bats with just one home run as a squad.
With the Cardinals down two runs in the seventh and potentially staring at a third straight loss to Arizona, Knizner provided just the spark that the Cardinals needed to end their first extended power shortage of the season. Knizner, who has carved out more playing time behind Yadier Molina, opened the inning with a looper over shortstop Nick Ahmed's head, and Paul DeJong followed with a double. Then, rookie Brendan Donovan plated Knizner for the first RBI of his MLB career.
Bader's two-run, go-ahead home run and Arenado's first-pitch dinger within a three-batter stretch allowed the Cardinals to rally for a 7-5 win over of the D-backs and a split of the four-game series before a sellout crowd of 45,123 at Busch Stadium.
"It's kind of like a blind trust — blind, in a sense, that you never know when it's going to come, but at some point, you know you will be able to grab onto it because you know it's there," said Bader, who hit his first home run of the season. "It's just about having that confidence in ourselves. We don't know when it's going to come, but we have that trust and before you know it, you're right where you need to be as a lineup."
And to think Sunday's much-needed four-run outburst for the Cardinals all started with Knizner's looping flare that traveled about 140 feet in the air. Knizner said one of his favorite phrases — "flares start fires" — is something he has been preaching to teammates throughout a stretch that previously saw the Cardinals lose five of seven games and score a grand total of five runs in those five defeats.
"Flares start fires is exactly right," said Knizner, who had two hits and a walk on Sunday to boost his average to .300. "When you've got two strikes on the leadoff guy, and he's able to drop one in for a hit, it's just like a small cut and it's still going to bleed. Being able to get on base there, I knew we could get some momentum going because I know Paul's a good matchup against [Keynan Middleton]. Then, Bader had a great at-bat, and Arenado added a little icing on top. It's as simple as a little flare starting a fire."
When asked about Knizner's catchphrase, Bader playfully shook his head and had this to say, "Flares start fires? Of course, he says that when he starts it going with a blooper. I understand what he's saying, and it's about passing the baton. [Thursday] night, we did it with 15 singles. It wasn't sexy with all those home runs and RBIs, but any way that we can get a bloop, sometimes that's all we need.
"[Knizner] is right about finding any way you can to get on base, but I find it funny that he said that when he was the one who started the rally. That's true Knizner fashion."
Sunday's rally produced just the second come-from-behind victory of the season for the Cardinals. They had to rally after blowing a 2-1 lead and upon falling behind twice after the D-backs got two home runs from Jordan Luplow and solo shots from Christian Walker and Ahmed. Ahmed had one of the two home runs in Saturday's 2-0 shutout where the Cardinals mustered just two singles.
Just when it looked like the Cardinals might fall again to the rapidly improving D-backs, Bader and Arenado rescued them with some much-needed injections of power. Prior to their blasts, St. Louis had only Paul Goldschmidt's first home run of the season Friday for its only home runs since Arenado's game-winning homer on April 20.
"That was a really big win for us all," Bader said. "Arizona just kept fighting back and putting themselves ahead, but we just stuck with it. Like I said, we really earned that one."
About Post Author