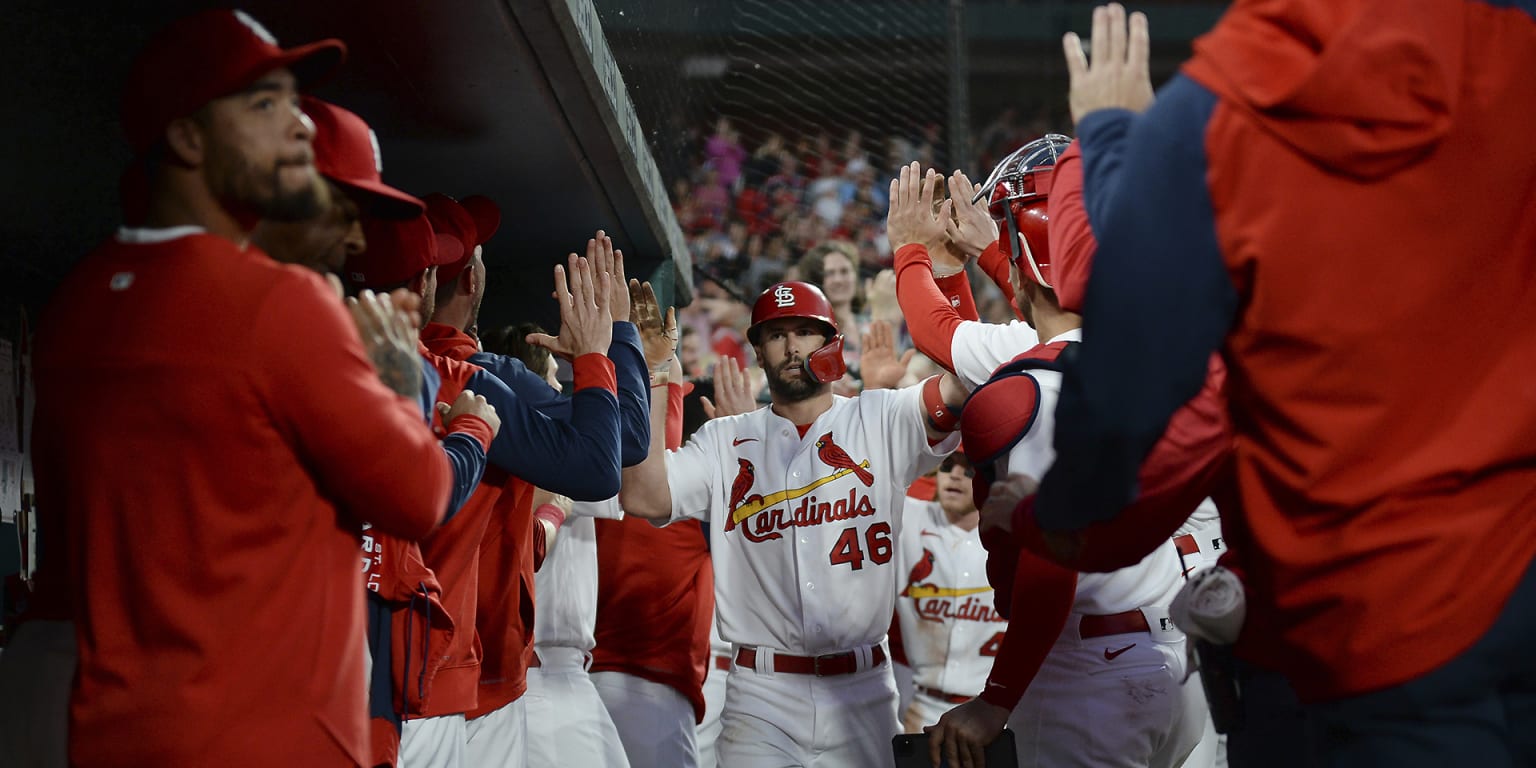 ST. LOUIS — As someone who absolutely despises talking about himself, Cardinals star first baseman Paul Goldschmidt was mostly let off the hook Friday night. Instead, Goldschmidt's teammates and coaches had plenty to say about the slugger's latest exploits.
When Goldschmidt hit a Brandon Woodruff fastball 104.3 mph off the bat and into the Brewers' bullpen for a two-run home run, it extended his hitting streak to 18 games and his on-base streak to a jaw-dropping 32 games. That on-base streak tied the longest such mark of Goldschmidt's stellar career with Arizona and St. Louis.
Not that the humble and low-key Goldschmidt would ever admit to knowing the numbers during one of the best streaks of his career. Asked after the game which streak he takes the most pride in, Goldschmidt squarely hit the question the way he did Woodruff's fastball.
"I don't care about either of them," he deadpanned.
Goldschmidt's home run, combined with some stellar relief pitching from Drew VerHagen, Genesis Cabrera, Kodi Whitley and Ryan Helsley, helped the Cardinals to end their two-game losing streak and defeat the Brewers, 4-2, at Busch Stadium.
Goldschmidt might not be loquacious when it comes to his own accomplishments, but his effectiveness has been doing plenty of talking for him of late. Throughout his hitting streak, Goldschmidt has gone 33-for-75 (.440) with 19 extra-base hits that include seven home runs, while also driving in 25 runs. Fifteen of his past 24 hits (seven home runs and eight doubles) have gone for extra bases, and his 20 extra-base hits in May are tied for the third-most in a single month in franchise history. He potentially has four days left to match or exceed the 22 extra-base hits that Stan Musial (1954) and Albert Pujols (2003) and the 21 Chick Hafey (1929) accomplished in a month.
"It seems like the whole bat is a barrel for him," manager Oliver Marmol said of his No. 2 hitter. "He's taking really good at-bats. It's been really fun to watch."
Hot all throughout the condensed Spring Training while using a new bat with a quirky puck-style knob, Goldschmidt strangely cooled off once the regular season began. Historically a slow starter, he exited April with a respectable .282 average but stuck on just one home run and 10 RBIs in the first 20 games.
Since then, however, Goldschmidt has been one of the game's best hitters in May. It comes as little surprise to those who see the intense preparation that Goldschmidt puts in daily in the batting cage, video room and weight room. The Cardinals all know that it's usually just a matter of time until Goldschmidt's stroke gets going and he becomes one of the game's elite hitters.
"I mean, he's doing incredible things, but if you watch him every day and you've played with him for more than just this year, there's always a streak like this," said Cardinals starter Dakota Hudson, who didn't allow a run, and pitched with better tempo, but was limited to just 4 2/3 innings because of the four walks he allowed. "It's just fun to watch a great player be great. It's been fun to watch, and we're all enjoying it."
Cardinals third baseman Nolan Arenado was the NL Player of the Month for April, and Goldschmidt might be poised to do the same for May. Already this week, he has a walk-off grand slam and home runs in back-to-back games, including a two-run shot to break a scoreless tie Friday.
He finished the night hitting .400 with eight home runs and 26 RBIs for May. With San Diego's Manny Machado cooling off a bit as the month winds down, Dodgers superstar Mookie Betts (.347 with 10 home runs and 25 RBIs this month) might be Goldschmidt's biggest competition for the May award. Ultimately, that honor will likely be decided over the final four days of the month.
"It's impressive, but he's just hyper-focused on executing his plan," Marmol said of Goldschmidt, who has actually been better this season when he's behind in the count (.391, five home runs) than when he's ahead (.342, two home runs).
"That's been the fun part to watch because there's a certain high level of preparation to what he does," Marmol added. "Then, he's going out there and executing. It's tough to execute better than what he's shown us to this point."
About Post Author