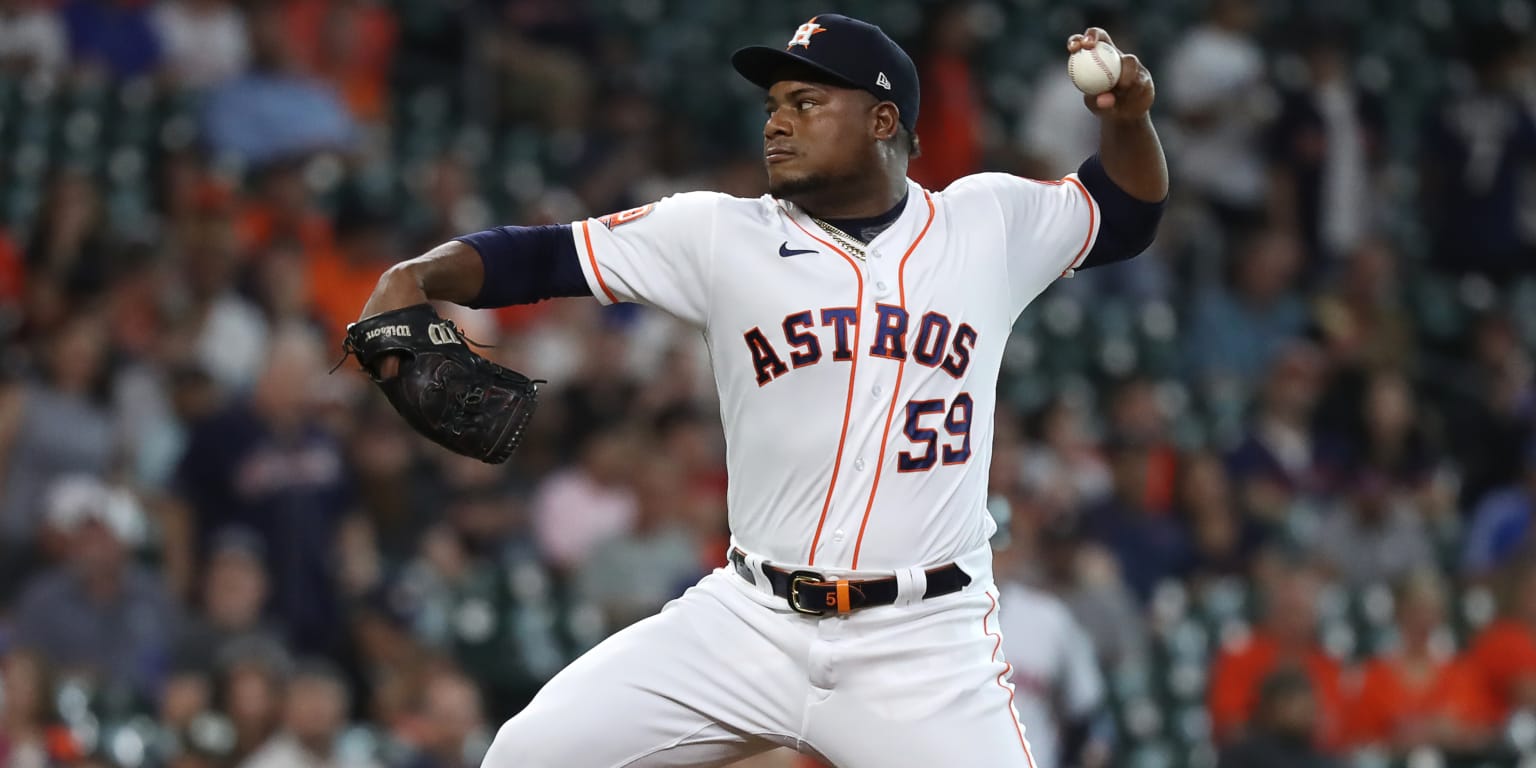 HOUSTON — The at-bat started with three sinkers before Framber Valdez changed to his devastating curveball. As Guardians third baseman José Ramírez kept fouling off pitch after pitch, Valdez tried another sinker, a curve and then a changeup. Ramírez hung tough, taking a fastball for a ball before fouling off another sinker and a cutter.
Finally, on the 12th pitch of the at-bat in the first inning on Tuesday night, Valdez threw a sinker over the heart of the plate, and Ramírez leveled it, sending the ball over the left-field wall for a home run. Ramírez, as he often does, won that battle, but Valdez wasn't done. Far from it.
The Astros' workhorse lefty shook off the Ramírez at-bat and homer and wound up pitching seven strong innings in Houston's 7-3 win over the Guardians at Minute Maid Park. Valdez (4-2) delivered his sixth consecutive quality start, allowing three runs on seven hits and no walks while striking out four batters.
"It was a little bit exhausting at first," Valdez said. "I threw 12 pitches to him. I left a sinker up and he hit it for a home run. He's one of the best hitters in the league right now, but trying not to lose focus and just stay focused on the game and just continue fighting."
Guardians manager Terry Francona called the battle between Valdez and Ramírez "incredible."
"That was as good of an [at-bat] as you will ever see," he said. "Valdez came as advertised. He's got velocity that is hard to get up in the air at times and got a good breaking ball."
In his last six starts, Valdez is 3-1 with a 2.25 ERA and 1.10 WHIP. He's averaged 100 pitches in those six starts, including a season-high 106 on Tuesday.
"Boy, that first inning, Ramírez is a heck of a hitter," Astros manager Dusty Baker said. "I don't know how many pitches he fouled off. You figured that's a whole inning he almost took out of Framber. His pitch count got high very quickly, but he had a couple of first-pitch, low-hit innings that kind of offset it. It feels good to score some runs and get back on the winning track."
Valdez had thrown 43 pitches through two innings, including 18 foul balls (10 in the Ramírez at-bat). The Guardians fouled off 29 of his pitches as a result of Valdez leaving some pitches, especially his sinker, up in the zone.
"I try not to lose focus whether I give up a run, a home run, an error, a base hit — just try to stay focused and attack the zone," Valdez said. "That's the biggest thing — whether I'm pitching eight innings or getting ready to pitch 10, just try to stay focused on that pitch, that at-bat every single time."
Focus, of course, is what's allowed Valdez to establish himself as a quality big league starter after a fledgling start to his career in 2018 and '19. He again credited his psychologist in the Dominican Republic, Andy Nuñez, for helping him learn to stay calm and work on his breathing like he did in the long at-bat against Ramírez.
"We all knew coming into the game he was going to be a tough out," catcher Martín Maldonado said. "He has been this year and yesterday, too. I think Framber was competing, and it was nice to see them both competing against each other. After that, he kept making pitches, and I think he made good, good pitches to Ramírez. He fouled them off."
Valdez needed only eight pitches to retire the Guardians in order in the third and never threw more than 14 pitches in an inning until the seventh, when he needed 17 to finish his outing. Twelve of the 21 outs he recorded were via the groundout, which lowered his ground-ball rate to a Major League-leading 67.7 percent.
"That's what he can do," Baker said. "He's feeling that his endurance is up. A couple of outings [ago], he was getting the ball up in the zone and not controlling his breaking ball, but he was much better tonight. We had a couple of miscues behind him or else he probably would have given up one [run]. If he throws like that every time out, he's going to win a lot of ballgames."
About Post Author