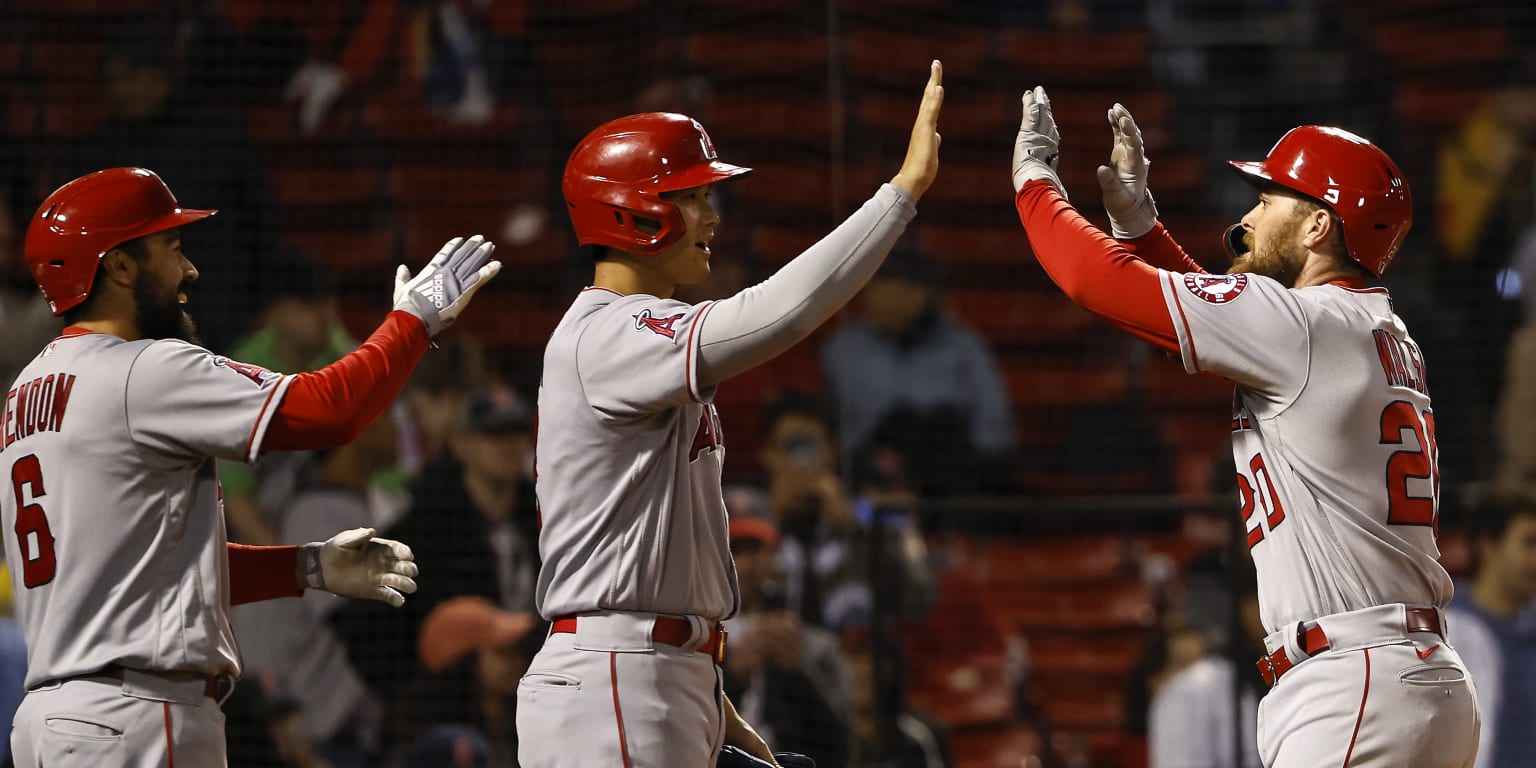 BOSTON — After being blanked in their previous two games, the Angels entered Wednesday's contest against the Red Sox risking their first back-to-back-to-back shutouts since June 1978.
Ahead of the game, manager Joe Maddon outlined his plan to help the offense out of its mini slump. Keep working on good at-bats. Don't put the pressure on one guy. Don't try to do too much.
"Actually I prefer doing less right now," Maddon said. "I think this is a time when you do less, the backside of a pretty tough road trip, pretty tough weather. We haven't really been playing in this kind of stuff. So to me it's really about taking a deep breath. Literally backing off a bit."
On a chilly night at Fenway Park, the Angels snapped their offensive slump in statement fashion with eight hits, including four homers, in a 10-5, 10-inning win.
After 4 1/3 perfect innings from Red Sox starter Garrett Whitlock, it seemed things were trending in the same direction for the Angels. In stepped Jared Walsh with a double to give the Halos their first hit of the game and a much-needed spark.
Walsh finished his night 3-for-5 — a triple shy of the cycle — with each of his hits proving pivotal in the Angels' win. The fifth-inning double set up a two-run homer from Max Stassi to snap the Halos' 22-inning scoreless drought.
In the ninth, Walsh hit a two-out game-tying RBI single off lefty reliever Jake Diekman to send the game to extras. And then in the 10th, the first baseman sent a 1-0 fastball over the Green Monster to provide insurance with a three-run homer.
"Pretty spectacular," Maddon said. "He's hit lefties pretty well this year, he's on a mission. [He] stayed in it. I felt good about the at-bat, he gets two strikes — good pitchers [are] going to make good pitches, and he did, but he just never gave up. The whole team never gave up."
The Angels challenged Walsh during Spring Training to work on his approach vs. lefties. Last season, Walsh hit .170/.208/.357 against southpaws. Twenty-four games into the 2022 season, he's improved to .300/.333/.400. In a nine-pitch at-bat vs. Diekman in the ninth, Walsh put his progress on display. After passing on an 80.7 mph slider and a 95.1 mph fastball to go up 2-0, Walsh fouled off five of the seven straight sliders Diekman threw before connecting on the last one for an RBI single.
"He throws really hard, kind of have my struggles against him," Walsh said of Diekman. "I don't know what the stats are, but I know they're not good. So, you know, gotta stay in there and try to see the slider. He throws really hard, so gotta be geared up for a mid-90s fastball, too. So I was thankful I fouled off a few of those tough sliders and then got one over the plate that I could drive."
Walsh's strides haven't gone unnoticed by his manager.
"He's a wonderful young man who works really hard at his craft," Maddon said.
Walsh's three-run homer capped a six-run 10th inning for the Angels. Taylor Ward, who came in as a pinch-hitter in the ninth, opened the scoring with a two-out, two-run homer to put the Angels up 6-4. Mike Trout followed with a single, Shohei Ohtani walked and Anthony Rendon — who had already clubbed a game-tying homer in the seventh — hit an RBI single to cushion the lead before Walsh delivered the dagger.
"Stay with the plan, the process. I'm a process guy," Maddon said pregame. "Whenever you're stuck, you go back to process and fundamentals. You should not attempt to try new and different things … if you can reimagine or re-feel what you had been doing. And again, keep things simple. I'm a big believer in simplicity."
The Angels, who hold a 1 1/2-game lead over the Astros in the American League West did just that on Wednesday, ending the night with their skid snapped and the second-highest on-base percentage, slugging and OPS in the AL.